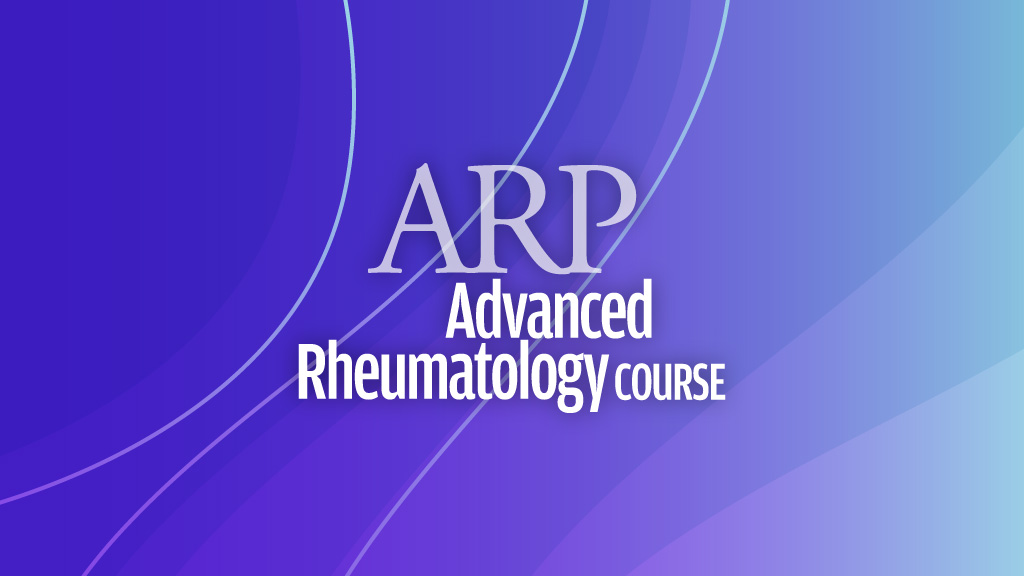 Advanced Rheumatology Course: All Activities
Basic and Clinical Sciences, Infections and Related Arthritides, Lupus Erythematosus, Rheumatoid Arthritis
Wednesday, August 16, 2023, 1:00 AM
Monday, August 17, 2026, 11:55 PM
Advanced Practice Nurses, Counselors, Medical Students, Nurses, Occupational Therapists, Pharmacists, Practice Administrators, Primary Care Physicians, Residents, Research Clinical, Research Coordinators, Researchers
Advanced Rheumatology Course
Discounts:
ARC Bundle Discount
---
Advanced Rheumatology Course: All Activities
---
You need to add at least one item to your cart to receive this discount.
ARC Bundle Discount
-$400
Program Information
The Advanced Rheumatology Course (ARC) is a comprehensive, 19-module educational series geared toward members of the rheumatology interprofessional team and other professionals needing a deeper dive into rheumatology. Use the course to learn how to assess and manage patients with rheumatic disease, develop strategies to better integrate NP/PAs into rheumatology practice, and improve access to care for patients. The course has a strong focus on advanced information that will help experienced practice providers function well in rheumatology and foster interprofessional collaboration.
Target Audience

The course was created for nurse practitioners and physician assistants; however, rheumatology fellows-in training, internal medicine residents, medical students, primary care providers and other providers new to rheumatology may also benefit.
Learning Objectives
Upon completion of this course, participants should be able to do the following: 
Assess and manage patients with rheumatic diseases as part of an interprofessional collaborative care team.
Develop strategies to integrate the nurse practitioner and physician assistant into a collaborative rheumatology practice.
Assist in decreasing wait times for appointments and improve access to care for patients with rheumatic disease by improving the competence and performance of nurse practitioners and physician assistants in a collaborative rheumatology practice.
Accreditation Statement
The American College of Rheumatology is accredited by the Accreditation Council for Continuing Medical Education (ACCME) to provide continuing medical education for physicians.
See the ACR's CME Mission Statement. For more information, download the AMA PRA Booklet.
Designation Statement
The ACR designates this enduring online activity for a maximum of 25.00 AMA PRA Category 1 Credit™. Physicians should claim only the credit commensurate with the extent of their participation in the activity. 
Health Professionals
Participants may claim hours to receive a Certificate of Participation for an activity designated for AMA PRA Category 1 Credits™.
By completing this activity, you provide the ACR permission to share completion data with the ACCME and the certifying board(s).
Faculty & Disclosures
ACR Disclosure Statement
It is the policy of the American College of Rheumatology (ACR) to ensure that Continuing Medical Education (CME) activities are independent and free of commercial bias. To ensure educational content is objective, balanced, and guarantee content presented is in the best interest of its learners' and the public, the ACR requires that everyone in a position to control educational content disclose all financial relationships with ineligible companies within the prior 24 months. An ineligible company is one whose primary business is producing, marketing, selling, re-selling or distributing healthcare products used by or on patients. Examples can be found at accme.org.
For this educational activity, all conflicts of interest have been resolved through peer review and revisions to ensure independence, evidence based, fair balance, and absence of commercial bias.
Faculty participating in an ACR-sponsored activity must disclose to the editorial team and audience any financial or other relationship(s) including, but not limited to:
Stock, stock options or bond holdings in a for-profit corporation or self-directed pension plan
Research grants
Employment (full or part-time)
Ownership or partnership
Consulting fees or other remuneration (payment)
Non-remunerative positions of influence such as officer, board member, trustee or public spokesperson
Receipt of royalties
Speakers' bureau
Other
None: Has no relevant financial relationship(s) with ineligible companies to disclose.
*All of the relevant financial relationships listed for these individuals have been mitigated.
Corporate Support
The project described was supported by Grant number 1 NU58DP006908-03-00 – Component A; Developing and Disseminating Programs to Build Sustainable Lupus Awareness, Knowledge, Skills and Partnerships. Its contents are solely the responsibility of the authors and do not necessarily represent the official views of the Department of Health and Human Services, Centers for Disease Control and Prevention.
ARC01: Musculoskeletal Structure and Function and Inflammation and Immunity
Review the basic framework of the musculoskeletal system, in addition to exploring the key principles of immune system operation and autoimmunity.
ARC02: Framework for Clinical Decision Making in Rheumatology
Learn to generate comprehensive frameworks for clinical decision-making, which will enable you to effectively navigate your daily tasks in the rheumatology clinic.
ARC03: Laboratory Evaluation of Rheumatic Disease
Review laboratory tests for the evaluation, diagnosis, and treatment of the most prevalent rheumatologic conditions.
ARC04: Imaging of Arthritis
Learn about different imaging modalities to aid in diagnosing rheumatic disease and making informed decisions regarding the most suitable treatments for patients.
ARC05: Coding and Practice Issues
Explore the significance of accurate documentation and coding procedures in practice and ensuring the precision and suitability of reporting.
ARC06: Therapeutic Interventions and Resources
Dive into a comprehensive presentation on therapeutic interventions, featuring the expertise of both physical therapists and occupational therapists.
ARC07: Osteoarthritis
Learn how osteoarthritis adversely affects mobility, significantly contributes to disability rates, and imposes substantial a financial burden on society.
ARC08: RA and Seronegative Inflammatory Arthropathies
Review rheumatoid arthritis as well as seronegative inflammatory arthropathies, including how to distinguish between the three primary forms of joint pain.
ARC09: Systemic Lupus Erythematosus
Explore the various manifestations of lupus, effective methods for diagnosing the condition, and optimal approaches for managing patients with lupus.
ARC10: Systemic Inflammatory Conditions
Learn how to accurately diagnose, administer appropriate treatments, and establish care plans for patients with inflammatory myopathy, Sjögren's disease, and systemic sclerosis.
ARC11: Vasculitis, Arteritis and PMR
Review the epidemiology, clinical features, differential diagnoses, treatment options, and outcomes concerning vasculitis and other vasculitides.
ARC12: Crystal-induced Arthropathies
Learn to recognize diverse clinical presentations, underlying causes, pertinent diagnostic examinations, and effective management strategies for crystal deposition disorders.
ARC13: Pain Syndromes
Increase your knowledge on pain syndromes for your patients with rheumatic disease and learn about delivering optimal patient care.
ARC14: Spondyloarthritis
Review spondyloarthritis, encompassing axial spondyloarthritis, psoriatic arthritis, reactive arthritis, and inflammatory bowel disease-associated arthritis.
ARC15: Infection-related Arthritis
Learn about infection-related arthritis and septic arthritis, along with its associated rheumatic manifestations, including those related to HIV.
ARC16: Osteoporosis and Other Metabolic Bone Disorders
Examine osteoporosis and other metabolic bone disorders and how to care for patients with these conditions.
ARC17: Comprehensive Overview of Juvenile Idiopathic Arthritis (JIA)
Review the knowledge and skills needed to effectively evaluate, treat, and support patients with juvenile idiopathic arthritis (JIA) and their families.
ARC18: Comprehensive Overview of Pediatric Connective Tissue Diseases (CTD)
Explore the necessary knowledge and skills to effectively evaluate, treat, and educate patients with pediatric connective tissue diseases and their families.
ARC19: Pediatric Noninflammatory Musculoskeletal Pain
Learn to distinguish between individuals who exhibit signs of inflammation and those experiencing non-inflammatory pain, and review its common patterns.