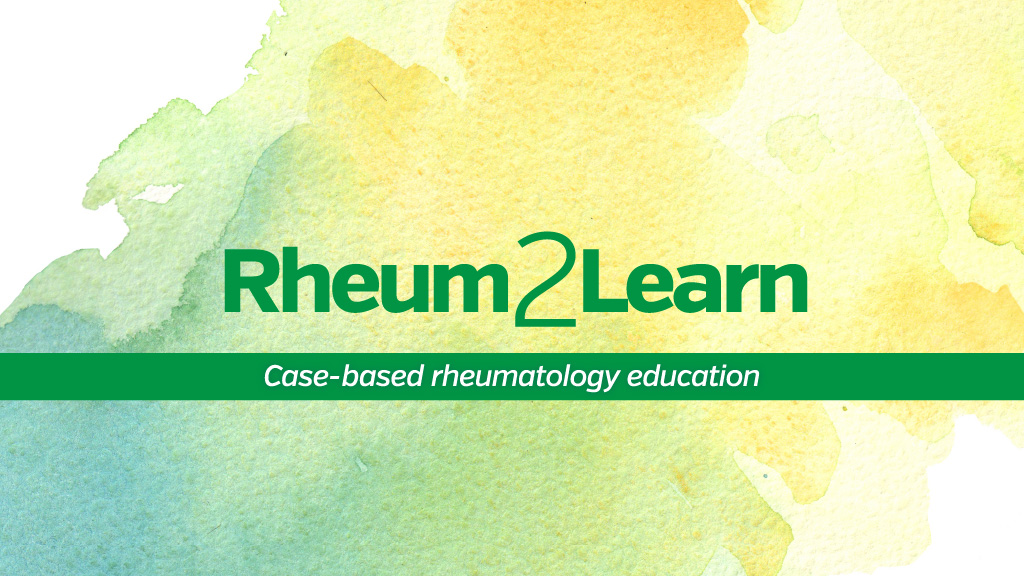 Rheum2Learn: All Activities
Crystal-induced Arthropathies, Infections and Related Arthritides, Metabolic Bone Disease, Osteoarthritis and Related Disorders, Rheumatoid Arthritis, Seronegative Spondyloarthropathies, Other Rheumatic and Connective Tissue Disorders (ORCT), Lupus Erythematosus, Nonarticular and Regional Musculoskeletal Disorders, Nonrheumatic Systemic Disorders, Vasculitides
Sunday, February 1, 2015, 12:00 AM
Sunday, December 31, 2023, 11:55 PM
Program Information
The Rheum2Learn case-based education was designed to serve as a useful resource for internal medicine program directors and residents during rheumatology rotation and rheumatology health professionals for self-study. The fifteen topics are outlined to match the six core competency requirements established by ACGME and should be used to enhance clinical knowledge in the care and assessment of individuals with rheumatic diseases.


Target Audience
Residents and rheumatology health professionals
Registration Information
Click Enroll to register for the full Rheum2Learn curriculum or you can enroll in individual activities below.
This program is complimentary
Rheum2Learn Activities
Rheum2Learn: Systemic Vasculitis
From presentation to diagnosis to management strategies for vasculitis, these patient cases will give you comprehensive knowledge of vasculitis and how to provide compassionate and respectful care.
Rheum2Learn: Pediatric Rheumatology
The final activity of the series studies four pediatric rheumatic disease patients. Gain insight into examining, diagnosing, and implementing a patient-centered approach for each child and their family.
Rheum2Learn: Musculoskeletal Exam
Know the process for a thorough musculoskeletal examination, from recognizing physical examination findings in common rheumatic diseases to demonstrating an appropriate joint examination, and more.
Rheum2Learn: Rheumatic Manifestations of Systemic Diseases
Recognize rheumatic manifestations of sarcoidosis, including Lofgren's syndrome, arthritis, periarthritis, dactylitis, and lytic and cystic bone lesions in this patient-focused case-based learning activity.
Rheum2Learn: Regional Musculoskeletal Disorders
Explore several patient cases presenting with a variety of symptoms and widespread muscle pain. Learn more about the different regional musculoskeletal disorders and their various treatment options.
Rheum2Learn: Osteoporosis
What is the appropriate approach to the evaluation of a patient regarding his/her bone health? Determine the steps for screening, diagnosing and distinguishing the appropriate medical management.
Rheum2Learn: Osteoarthritis
Your case-based learning continues with two patients presenting symptoms of osteoarthritis. You will learn more about key characteristics, common descriptions of pain, and how to interpret imaging tests.
Rheum2Learn: Crystalline Diseases
Be able to identify the features of crystalline diseases, know the epidemiology and trigger factors in gout and pseudogout (CPPD), and understand medication management and pain relief with these cases.
Rheum2Learn: Sjogren's Syndrome
Learn both the oral and ocular symptoms, how to determine the need for differential diagnoses, and develop skills for building a patient care plan with resources to further educate patients about SS.
Rheum2Learn: Systemic Sclerosis
Scleroderma is a challenging disease to manage as it affects multiple organ systems. Follow two cases that illustrate the diverse nature of the disease, providing you with valuable knowledge for the future.
Rheum2Learn: Inflammatory Myopathies
There is a lot to be understood about inflammatory myopathies. Get a detailed education about the characteristics of the muscle disease, appropriate evaluation strategies, diagnosing, and management.
Rheum2Learn: Rheumatoid Arthritis
Begin the 15-topic series with everything you need to know about rheumatoid arthritis. Take a deep dive into several patient cases where you will learn about best patient care practices and much more.
Rheum2Learn: Seronegative Spondyloarthropathy
Distinguish symptoms and physical findings, learn the approach for evaluation, determine the need for further subspecialty evaluations, and the treatment approaches for seronegative spondyloarthropathy.
Rheum2Learn: Systemic Lupus Erythematosus
Get comprehensive knowledge of systemic lupus erythematosus, from identifying clinical manifestations and interpreting results of testing to discussing diagnosis and treatment options for patients with SLE.
Rheum2Learn: Infectious Arthritis
Recognize the clinical presentations and treatment of infectious arthritis, identify the role infection plays in triggering arthritis, and develop a patient-centered approach to care in this activity.